At least eight people called Rayburn House their home from 1916 to 1969. These people ate here, slept here, listened to the radio and ultimately watched television here. We know the most about Sam Rayburn because he is the family member who has written about him the most. These writings told us about the food he loves (onion sandwiches), how he hated small talk, and what he thought of the presidents he served with. Some of these articles and books about Sam Rayburn feature his family's insights into him, their famous relative. However, there is much less written about his family members and their personalities, the little things they did in their lives that made them main characters in their story rather than secondary characters in the story. from Sam. Unfortunately, I can't tell you everything about these Rayburns. But I can look through their stuff and together we can try to figure it out. This month, I'm snooping through some Rayburn books (it's fine for historians to snoop) to see what they like to read.
Martha Rayburn, the family matriarch, instilled a love of reading in her family. Her husband, William, was illiterate before his wife taught him to read and write. Thereafter, William was finally able to read everything he could get his hands on, which led to intense discussions about history and politics with his family. We know what Sam did with his ability to read – he consumed biographies of historic American figures, from presidents to military leaders. After Sam reached Washington, D.C., in 1913, former Speaker of the House, Champion Clark, gave him a list of books to read to improve his political and historical knowledge. Sam collected these books from the Library of Congress and eventually began to initial page 99 of each book he read. He was also fond of works of fiction, especially detective and western novels. The Sam Rayburn Library, now the Sam Rayburn Museum, contains most of Sam's book collection. However, we still have a few of his books.
While it can be difficult to say for sure who owned the book in our collection, just knowing the titles of these works gives us a better understanding of those who have lived in the house over time: the parents William and Martha; siblings Lucinda, Will, Sam, Tom and Medibel; and at times, Medibel's husband, Samuel Edward "SE" Bartley, and their son, Robert.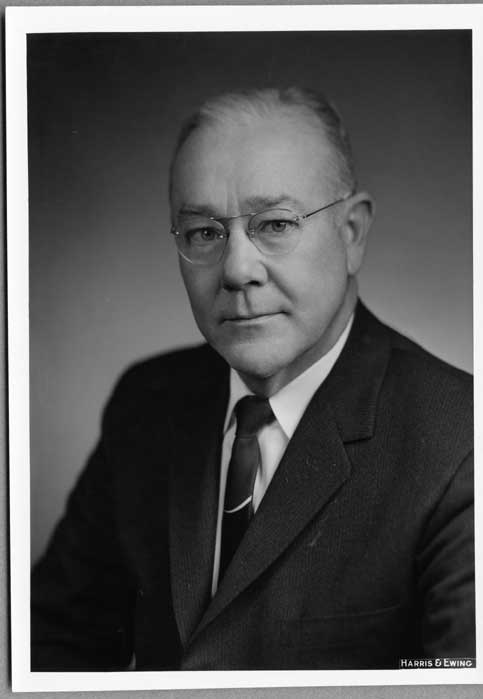 Robert Bartley
The family owned several Bibles, Texas books, Christmas books, and at least an entire set of encyclopedias. Medibel, and possibly someone else, kept her son's textbooks and yearbooks as well as at least one other book by a niece of Rayburn. The family and their caretaker, Bobbie Phillips, collected several cookbooks. Sam and Lucinda probably provided the Congressional Club cookbooks. All the other books related to Congress, state and federal laws, and a dictionary probably belonged to Sam as well.
Lucinda was kind enough to work as her brother Sam's hostess at social events in Washington, DC, and their home in Bonham. We say that Sam's sisters, Kate and Medibel, were more interested in politics than Lucinda, although Lucinda wouldn't have had such a good relationship with Sam or couldn't have fit into the DC social scene. if she hadn't had a certain inclination for the subject. . But, Lucinda was a little more interested in the social than the political. So I believe that The Washington, DC Social List by Carolyn Hagner Shaw, published in 1950, was something Lucinda went through. Helen Ray Hagner first published this series of books, dubbed "The Green Book" because of its green cover, in 1930. According to the Green Book website, responsibility for gathering the names of Washington's elite ( from families to members of Congress to diplomats) as well as answering questions about proper social etiquette remains in the Hagner/Shaw line to this day. Lucinda needed a book like this to keep up with who's who in Washington. Lucinda had a copy of Beverly of Graustark by George Barr McCutcheon, indicating that she was also interested in fantasy and romantic novels.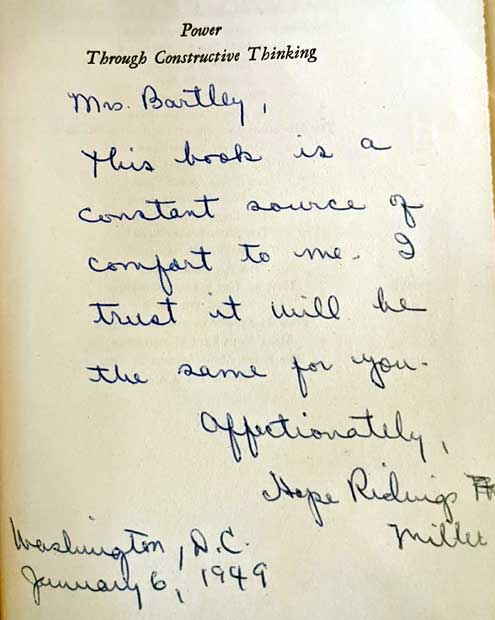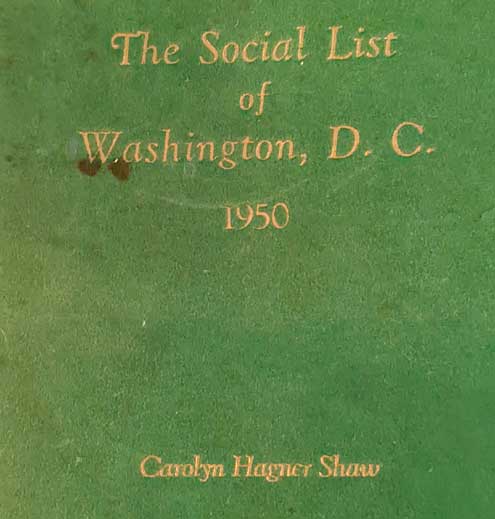 The majority of the books in our collection probably belonged to Medibel and SE Bartley, as they wrote their names or had their books inscribed on them. Many self-help, religious and inspirational books belonged to Medibel. For example, Hope Ridings Miller (Washington, DC journalist and Bonham, Texas native) gave Medibel a copy of Emmet Fox's book Power through constructive thinking. Hope wrote: "This book is a constant source of comfort to me. I hope it will be the same for you.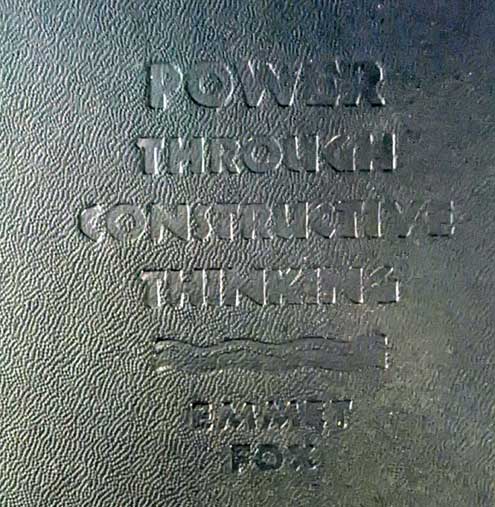 Other books in these genres that Medibel is likely to read include: The secret of the kingdom by Mika Waltari, the Keys to Happiness: A Reader's Digest Guide to Life Success, on this rock by Frank G. Slaughter, and When you lose a loved one by Allen and Rice. Several music books are also part of our collection, including one, "Stray Leaves: 12 Easy, Melodious Pieces for Piano" owned by Medibel. Other music books involve teaching mandolin, guitar, and voice. We have a photo of Medibel in some random group, although I couldn't find more info on that part of his life (but I'll work on it).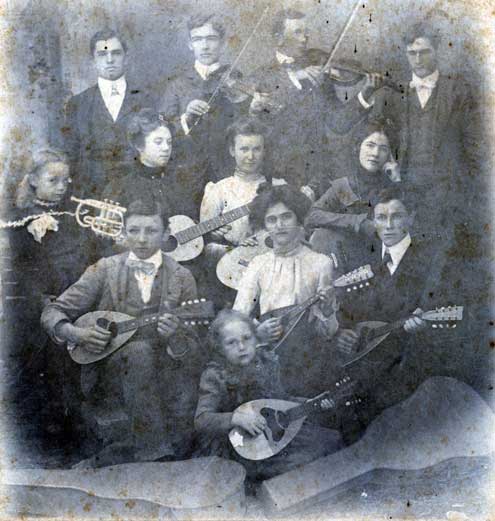 Musicians with instruments, Medibel Rayburn second row, far right, finger to face
There were also books about teacher training courses and subjects taught in Texas schools, though it's unclear whether these were Medibel's curiosity or indications she might have. been able to work as a teacher to some extent.
SE journaled for a few days in his book, A brief history of nations and their progress in civilization by George Park Fisher. He wrote his name and place of residence in the book on September 5, 1898, presumably when he received it. On May 7, 1899, he wrote: "I saw a young girl pass by". On May 29, he was "happy as a June insect". Whether Medibel was this young girl or not, SE felt the need to save the young girl he saw (Medibel and SE were married on October 8, 1902).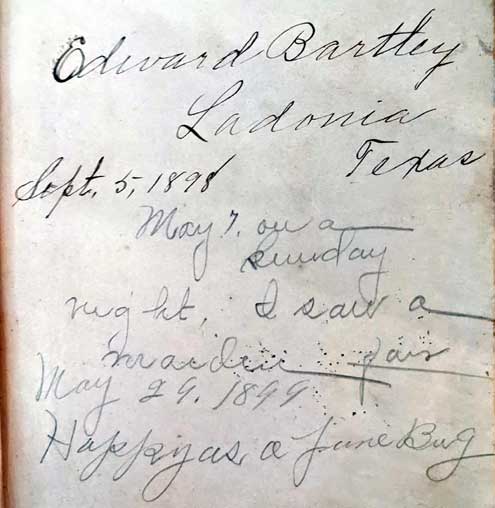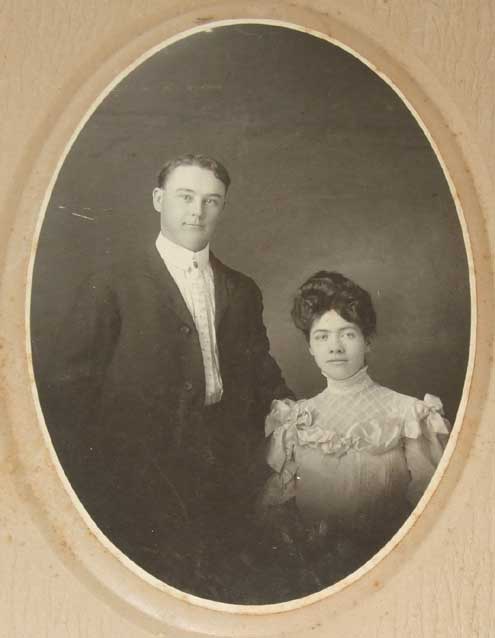 SE and Medibel Bartley
SE may have had a romantic spirit based on all the poetry he collected. He also read a lot of classic Western literature. SE's diploma contains a list of the courses he took in high school, including: Introduction to Latin, Viri Romae (more Latin), Caesar, Vergil (a poet, sometimes spelled "Virgil"), Cicero (philosopher), and Horace (poet). He also took math classes and eventually made a career in banking, but his love of literature and poetry never left him. He had a series of poetic works by Alexander Pope, John Dryden, William Wordsworth, Robert Lowell and John Greenleaf Whittier. It also had works by Charlotte Brontë, Charles Lamb, George Eliot and others. The Poetry Foundation website has information on most of these poets if you want to know more about them. Apart from the poems, HE or other family members had copies of The brass check by Upton Sinclair, the count of Monte Cristo by Alexandre Dumas, and farm animal by George Orwell. Did you know Edward Bulwer-Lytton was the person who started the book Paul Clifford with the words "Was it a dark and stormy night?" I do it now, because I had to look up the author because SE had a book containing two of his works: Kenelm Chillingly and Rienzi. The great thing about most of these books, especially the classic literature and poems read by SE, is that they are all way beyond copyright and you can find them for free online at Project Gutenberg. , which provides e-books or digitized copies of royalty-free material, from novels to poems to cookbooks.
Joyce Rayburn, one of James "Jim" Rayburn's children, wrote all over his arithmetic book or someone else. In a lesson on British money, she wrote: "If you see a cat in a tree, pull its tail and think of [me]."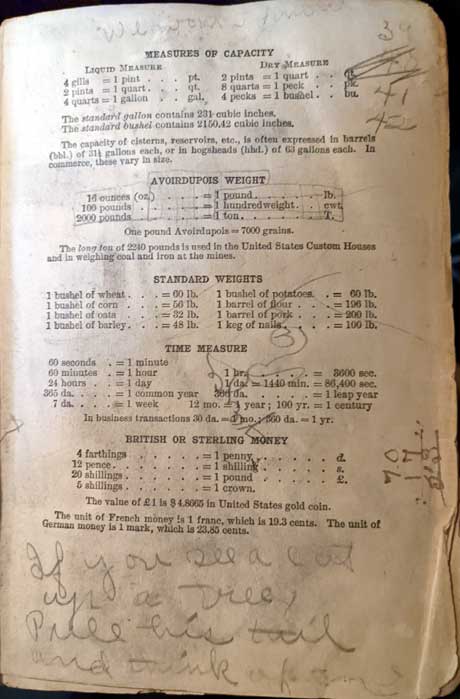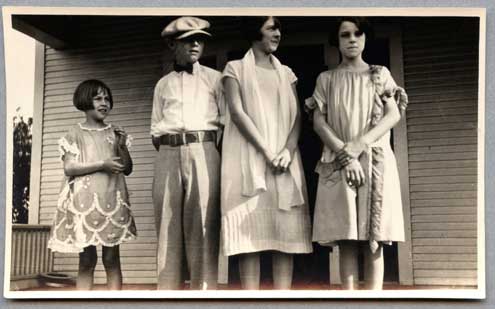 Jim Rayburn children 1926 L to R Judy, Charles, Kate and Joyce
She seemed to like writing her name with and around her initials. There also appears to be writing from another type of pencil or ink. We have some of Robert Bartley's books, both from school and from his own personal collection. Such a book Latin grammar by Charles E. Bennett, contains drawings and writings. However, these may or may not have been made by Robert, as the name Liebling Mayo is written in the book, with an indicated year of 1923 and "Bryan High School", which likely referred to Bryan Street High School in Dallas. Liebling Mayo was the adopted son of WA and Kate Thomas, Kate being Robert's aunt. With both families living in Dallas, it's possible that Liebling allowed Robert to use some of his old textbooks. Robert graduated from Highland Park High School in 1927 and Liebling was slightly older than Robert, so they may not have attended the same school together. Although I can't say for sure which member of the Rayburn family did the work in the book, Robert signed his name on at least one drawing at the bottom of the very first page of the book, possibly having drawn all the renditions of "Egyptian Dancers in the Time of Cleopatra. One of the boys appeared to be joking in Latin. One sentence says, "Caesar sic dacat on decur, agessi licum", which is not entirely true Latin, and below it says in parentheses, "Caesar sickened the cat on the heart and I [guess] he loved her. On the title page of the book, someone wrote, "If Plato could, could Shimmie make Aris walk?"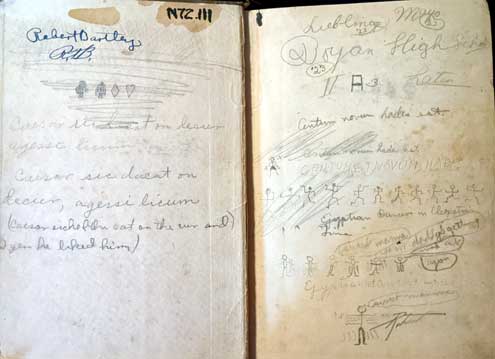 The ending to this story is that the Rayburn family was made up of people we can connect with, even though their lives seem so much more different than ours. For example, I'm not sure SE Bartley and I would have had much in common – he probably owned the Edgar Allan Poe bookends you can see in the living room, while I have Superman bookends in my house and that I own more VHS tapes than poetry books – but I can at least read any of those books if I ever need a glimpse of him or the other folks in the Sam Rayburn house.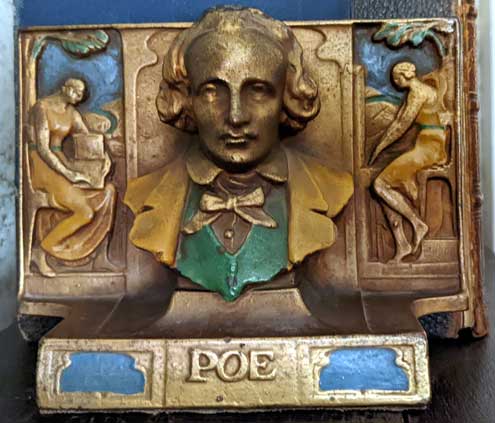 I'm always looking for ways to understand the Rayburns through the things they did, and it helps when I find an experience we shared. Although not open where you can see the pages, we have these books on the shelves at Rayburn House. We will also have a few select books on display in our Visitor Center from April to June, so come see us soon!
This article originally appeared on the Sam Rayburn House State Historic Site blog operated by the Texas Historical Commission. The Texas Historical Commission has 34 historic sites across the state of Texas, and we're just one of many sites that keep you up to date with events and special articles that help you explore these sites. For more information about the Sam Rayburn House and to see more articles like the one you just read, please visit our website at www.visitsamrayburnhouse.com. You can also contact us at 903-583-5558 or email us at [email protected] to schedule a tour of this historic home located at 890 W. State Hwy. 56 in Bonham, Texas.