It's a good time to stock up on summer reading. That's why the Friends of Southborough Library are hosting their annual June book sale next week.*
Plan to visit the library on Saturday, June 11 from 10 a.m. to 3 p.m. (If you'd like to volunteer a hand, scroll down for more details.**)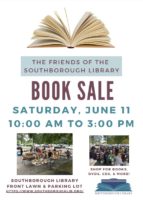 You can get paperbacks, hardcovers, or even CDs and DVDs. You can also buy a new Friends tote bag (or bring your old one) to enjoy the stuff a bag deal.
If you have kids, be sure to bring them along to pick up a free book each!
Proceeds are also used by Friends for items that the library budget cannot cover.
This includes purchasing most free or discounted library offerings museum and park passes for the community. Friends also sponsor many programs for children, teens, and adults, fund supplies for the seed exchange program, and occasionally pay for equipment, furniture, and other resources.
If you're looking to support Friends' efforts, here are a few more ways you can help:*
*[I should note for readers who aren't aware – I'm the President of the Friends of the Southborough Library.]
**We welcome volunteers to help us set up (from 9:00 a.m.) or pack (from 3:00 p.m.). If you would like to help out during sales hours by taking a 1-2 hour shift, please email [email protected]